Press article presenting Towa Corporation, published in Newsweek International 2022
Back in 2022, an article presenting Towa Corporation and the values that guide us was published in Newsweek International, Volume 178. This was part of a series on Japanese manufacturers innovating in different industrial fields. It serves as a great introduction to Towa Corporation and the vision of our President and CEO, Satoshi Watanabe.
You can view the article below, along with a transcript of the article.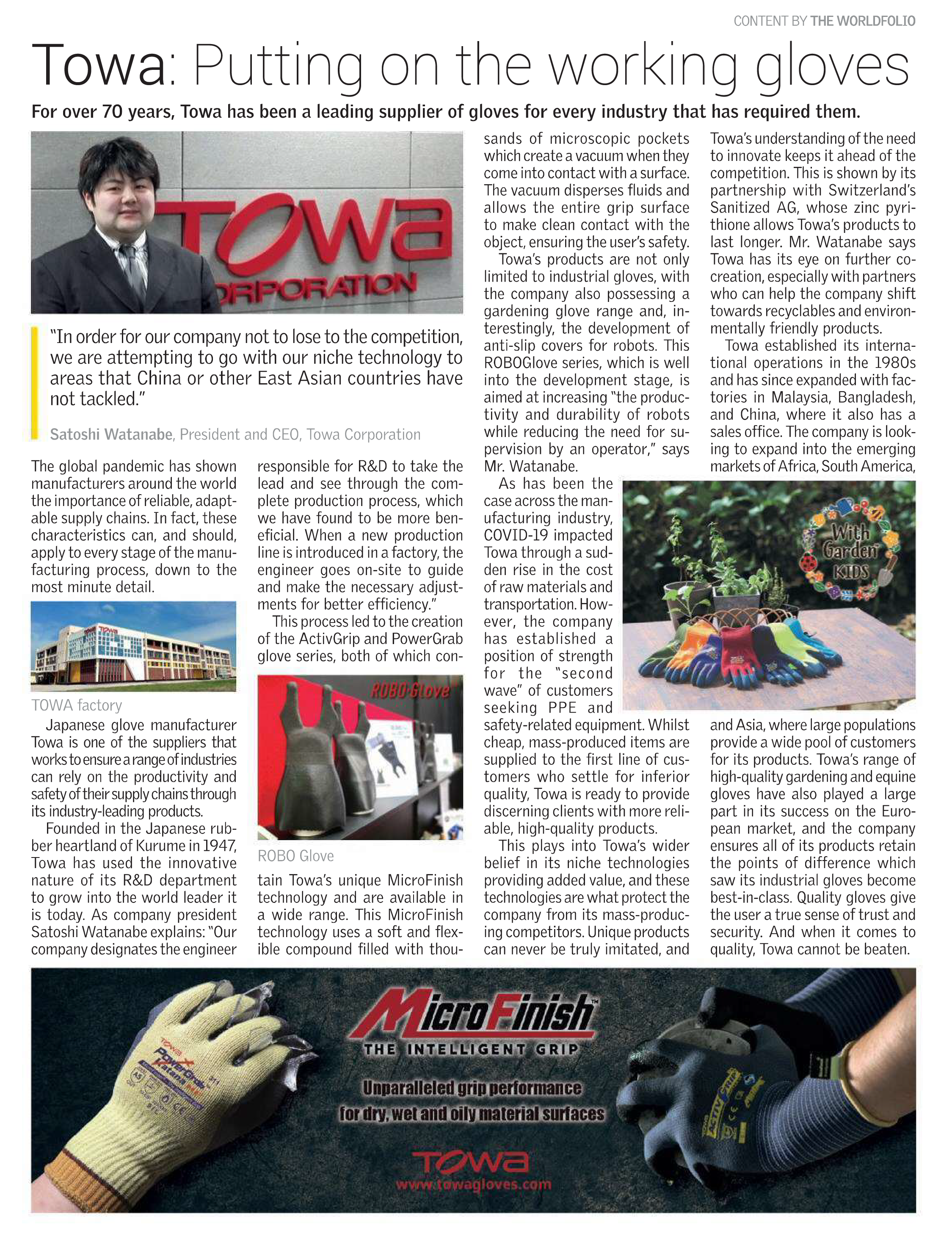 ---
Towa: Putting on the working gloves
For over 70 years, Towa has been a leading supplier of gloves for every industry that has required them.

 The global pandemic has shown manufacturers around the world the importance of reliable, adaptable supply chains. In fact, these characteristics can, and should, apply to every stage of the manufacturing process, down to the most minute detail.
Japanese glove manufacturer Towa is one of the suppliers that works to ensure a range of industries can rely on the productivity and safety of their supply chains through its industry-leading products.

 Founded in the Japanese rubber heartland of Kurume in 1947, Towa has used the innovative nature of its R&D department to grow into the world leader it is today. As company president Satoshi Watanabe explains: "Our company designates the engineer responsible for R&D to take the lead and see through the complete production process, which we have found to be more beneficial. When a new production line is introduced in a factory, the engineer goes on-site to guide and make the necessary adjustments for better efficiency."

 This process led to the creation of the ActivGrip and PowerGrab glove series, both of which contain Towa's unique MicroFinish technology and are available in a wide range. This MicroFinish technology uses a soft and flexible compound filled with thousands of microscopic pockets which create a vacuum when they come into contact with a surface. The vacuum disperses fluids and allows the entire grip surface to make clean contact with the object, ensuring the user's safety.

 Towa's products are not only limited to industrial gloves, with the company also possessing a gardening glove range and, interestingly, the development of anti-slip covers for robots. This ROBOGlove series, which is well into the development stage, is aimed at increasing "the productivity and durability of robots while reducing the need for supervision by an operator" says Mr. Watanabe.

 As has been the case across the manufacturing industry, COVD-19 impacted Towa through a sudden rise in the cost of raw materials and transportation. However, the company has established a position of strength for the "second wave" of customers seeking PPE and safety-related equipment. Whilst cheap, mass-produced items are supplied to the first line of customers who settle for inferior quality, Towa is ready to provide discerning clients with more reliable, high-quality products.
This plays into Towa's wider belief in its niched technologies providing added value, and these technologies are what protect the company from its mass-producing competitors. Unique products can never truly be imitated, and Towa's understanding of the need to innovate keeps it ahead of the competition. This is shown by its partnership with Switzerland's Sanitized AG, whose zinc pyrithione allows Towa's products to last longer. Mr Watanabe says Towa has its eye on further co-creation, especially with partners who can help the company shift towards recyclable and environmentally friendly products.

 Towa established its international operations in the 1980s and has since expanded with factories in Malaysia, Bangladesh, and China, where it also has a sales office.
The company is looking to expand into the emerging markets of Africa, South America, and Asia, where large populations provide a wide pool of customers for its products. Towa's range of high-quality gardening and equine gloves have also played a large part in its success on the European market, and the company ensures all of its products retain the points of difference which saw its industrial gloves become best-in-class. Quality gloves give the user a true sense of trust and security. And when it comes to quality, Towa cannot be beaten.