ActivGrip Omega Plus 541
Cut Resistance With Oil Grip Performance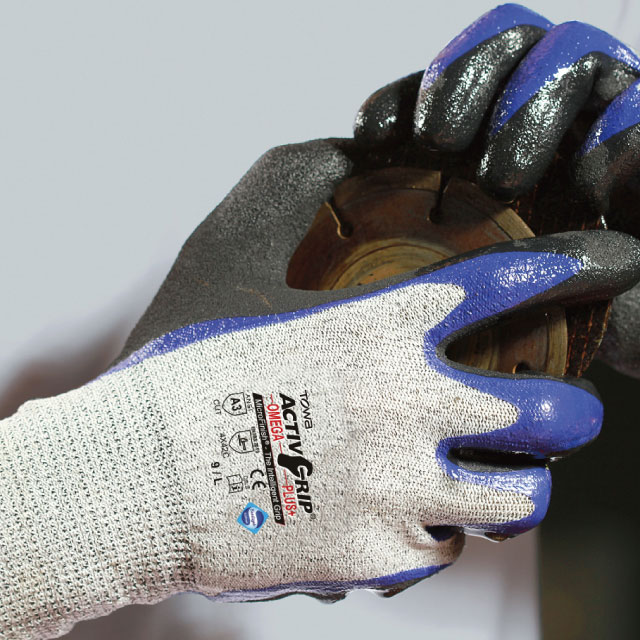 DESCRIPTION
» Adding full coating of the fingers to the base Omega, the Omega Plus is ideal for jobs that require dexterity, especially in confined spaces with poor visibility of the fingers, without sacrificing finger tip protection from liquids penetration.
» The 13 gauge HPPE liner gives the user a lightweight feeling, yet maintains a stable cut resistance.
PRODUCT
Coating

Nitrile
Size

7/S - 11/XXL
Liner

13-Gauge | Seamless | HPPE/Glass fiber
Length

-
Color

Liner: Grey, Coating: Black & Blue
Size & Hem Color
FEATURES
Oil Performance

Cut Resistance

Double Coated

Thumb Protection

3-4 Coated
APPLICATIONS
Oily Material

Assembly

Automotive

Maintenance

Building

Glass Handling

Sheet Metal
Oil Resistance
An additional finger coating prevents penetration of liquids. By adding this extra coating,
ActivGrip™ Omega Plus is ideal for jobs that require dexterity without sacrificing protection from liquids.
Safety
By using HPPE fiber, ActivGrip™ Omega Plus offers the high cut resistant protection.
The HPPE fibers assure that ActivGrip™ Omega Plus is up to the tough and dangerous jobs
without losing dexterity and durability.
Liquidproof Palm
The double coated palm surface keeps hands clean and prevents any liquid from coming in.
ActivGrip™ Omega combines maximum performance with hygiene for the ultimate protection of the user`s hands.
Grip Performance
Towa's original patented MicroFinish® technology offers the best grip in the industry in dry, wet and oily conditions.
MicroFinish: U.S. Pat.No. 8,387,167/EP Pat.No. 2143551/ZL200880010847.0