ActivGrip 567
Excellent Oil Grip Performance with PVC Sleeves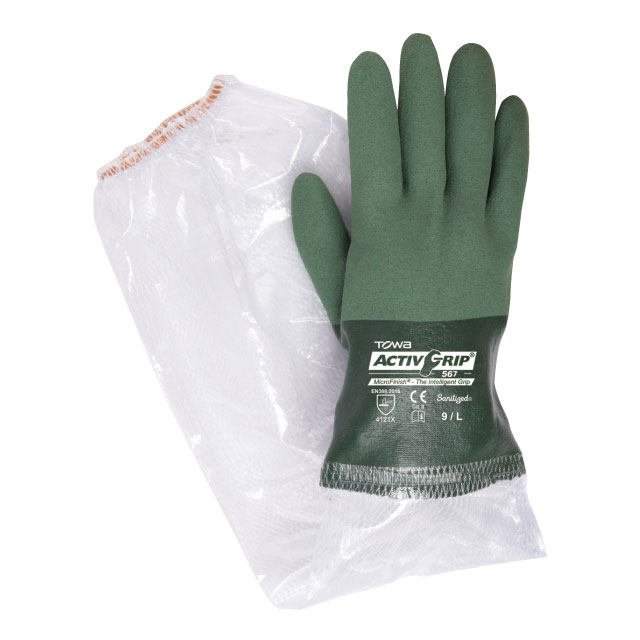 DESCRIPTION
» Full nitrile triple coated surface provides 360° hand protection from mechanical hazard and oil penetration.
» A 13 gauge seamless liner offers not only flexibility but durability, thus increasing productivity and safety.
» With its heat-sealed PVC sleeves, reinforced to prevent tears and punctures, the forearm is protected from liquids and oils bringing the overall length of the glove to 60cm.
PRODUCT
Coating

Nitrile
Size

6/XS - 11/XXL
Liner

13-Gauge | Seamless | Poly/Cotton
Length

24inch (60cm)
Color

Grey
Size & Hem Color

-
FEATURES
Oil Performance

Water Resistance

Double Coated

Fully Coated
APPLICATIONS
Oily Material

Automotive

Machine Operation

Fishery

Painting
Oil Resistant
Unlike similiar gloves in the market, ActivGrip™ 567 offers more promising protection against oil penetration. The double coated surface keeps hands clean for oily material handling.
Grip Performance
With MicroFinish® technology, a soft yet durable nitrile coating promises its performance under dry, wet and oily conditions.
Comfort
A 13-gauge seamless liner and ergonomic design assure maximum comfort and minimum hand fatigue.
MicroFinish: U.S. Pat.No. 8,387,167/EP Pat.No. 2143551/ZL200880010847.0